Our Ketogenic Diet Food List For Weight Loss is based on numerous high quality online articles, and scientific research.
If you are reading this, it means you probably already know what nutritional ketosis is, and how to it works.
The below image is a good representation of the kinds of foods you should be including in your shopping basket.
To enter ketosis your diet needs to include high quantities of healthy fats, low carbohydrate and moderate protein.
We highly recommend you read our article on how to start a ketogenic diet weight loss plan the right way before you start shopping with our comprehensive list.
Quick Recap on how a Ketogenic Diet Works
Depleting your glycogen stores by reducing carbohydrate intake, forces the breakdown of body fat (mainly triglycerides) into Fatty acids which travel to the liver where it is converted into ketones.
Fatty acids can be used by most cells in the body for energy except the brain, while ketones can be used by the body and the brain
Keep the below points in mind to ensure a successful diet.
Keep carbohydrate consumption low. This amount depends on your level of physical activity, age, lifestyle, gender and so on.
Keep fat consumption high. It is therefore highly crucial that you keep these fats healthy as they will represent over 50% of your daily caloric intake.
Keep protein moderate. To prevent loss of muscle mass during the diet.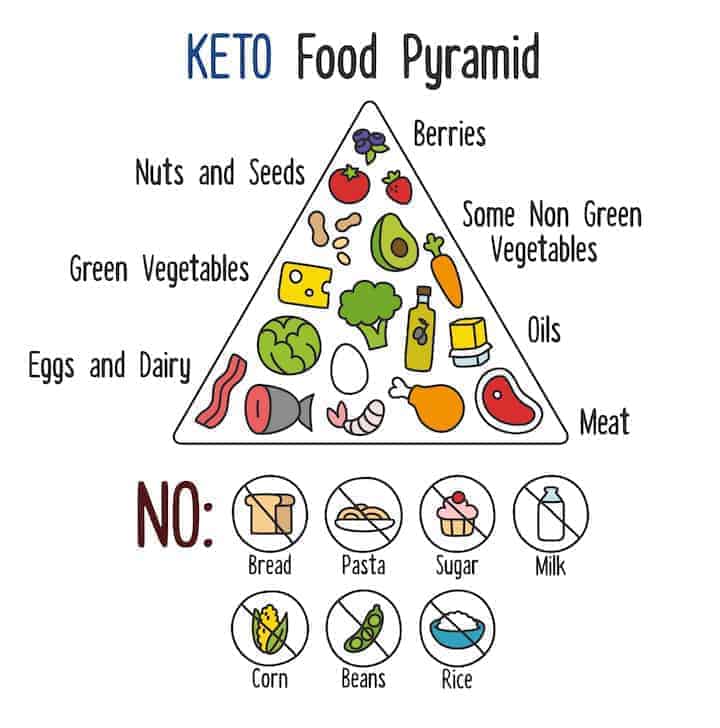 Ketogenic Diet Food List For Weight Loss
Healthy Fats and Oils
Butter or ghee
Avocados
Macadamia nuts
Coconut butter
Cocoa butter
Egg yolks
Coconut oil, olive oil, or avocado oil
Nuts and seeds or nut butter
Fatty fish
Protein
Beef, like steak, veal, roast, ground beef, and stews.
Poultry, darker, fattier versions.
Pork
Fish
Shellfish
Egg whites
Lamb
Goat
Protein powders. checkout MyProtein
Carbohydrates
Kale
Spinach
Swiss chard
Bok choy
Lettuce
Brussels sprouts
Broccoli
Onions
Bell peppers
Asparagus
Celery
Cucumber
Zucchini
Cauliflower
Very Small Quantities
Strawberries
Blueberries
Raspberries
Cherries
Cranberries
Mulberries
Vegan – Ketogenic Diet Food List For Weight Loss
Healthy Fats and Oils
Butter or ghee
Avocados
Macadamia nuts
Coconut butter
Cocoa butter
Coconut oil, olive oil, or avocado oil
Almonds
Cashews
Chia Seeds
Coconut Flakes (non-sweetened)
Hazelnuts
Macadamias
Pecans
Pumpkin Seeds
Sesame Seeds
Sunflower Seeds
Walnuts
Protein
Tofu
Hemp
Non-Dairy Milk
Quinoa
Tempeh
Vegan Protein powders. checkout MyProtein
Carbohydrates
Artichokes
Asparagus
Bok Choy
Broccoli
Brussel Sprouts
Cabbage
Cauliflower
Celery
Cucumber
Edamame/Green Soy
Beans
Eggplant (Aubergine)
Fennel
Garlic
Green Beans
Kale
Lettuce
Mushrooms
Parsley
Peppers
Radish
Spaghetti Squash
Butternut Squash
Spinach
Zucchini (Courgette)